School News
Webs of Support with OJSH and OES
Posted on

October 11th, 2017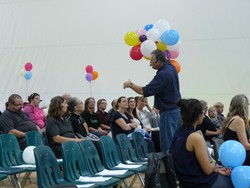 On the evening of October 5, the wider Onoway community was invited to Onoway Junior Senior High School for a special presentation: "Connecting Students to a Brighter Future" with speaker Derek Peterson, an expert in the field of youth development.
The organizing of the presentation was a joint effort by OJSH and Onoway Elementary School. Derek Peterson gave an inspiring presentation to community members, organizations, businesses and parents outlining a method of giving youth the skills, attitudes, values and beliefs they need to thrive. This is done through "webs of support": people impact young people's lives for the better and who thus act as anchors for them. Anchors can be school staff, coaches, pastors, mentors, family members and member of our community. To succeed, every child ideally needs five anchors – those anchors provide a web of support for the young person.
The following day was a PD Day for the schools. Both OJSH and OES came together once more to spend an entire day with Derek Peterson. Because the presentation was a whole day, staff from both schools were able to delve deeper into the concept of "webs of support", ask questions, get clarification and participate in hands-on activities representing Mr. Peterson's concepts.
The day was long and intense but every participant left feeling positive and energized by the presentation.
These two presentations are not the end of the story. Derek Peterson will be back in the spring, bringing his unique and exciting concepts of helping our youth succeed. In the meantime, both school are continuing to work on the concepts that Mr. Peterson presented and those concepts will be at the forefront of how staff interact with students and the wider community.