School News
Starting a Journey: Webs of Support
Posted on

September 1st, 2017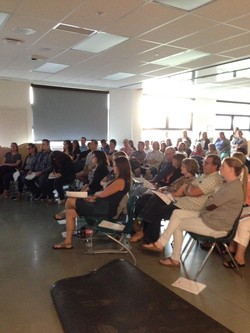 On Friday September 1st, the staff from OES and OJSH got together to begin the journey of building webs of support for students. To start the day off on a healthy and socially engaging way, OJSH Cafeteria Manager Mr. Murray Galliford and Staff cooked and served a pancake breakfast to all attendees. Staff from both schools together then started a special journey: they became engaged in learning and collaboration. They received information about how they can support students now and about what will be happening in the near future to support our community members.
Our webs of support for students come from the adults in the schools and greater communities they are part of. As such, we ALL need to be informed and involved and that is why OES and OJSH are only too happy to be hosting a community evening session with guest speaker Derek Peterson. Please bring your family, friends, and coworkers, to join your community at Onoway Jr./Sr. High School for a fun and informative night on Thursday, October 5th (time to be announced shortly). Information about our fabulous guest speaker is below:
Derek Peterson is the founder of Integrative Youth Development (IYD), and its common sense methodologies for impacting the lives of individual children and youth. His work has been engaging and supporting teens, families, schools, and communities for over 30 years. Derek has worked with youth in many areas of North America including extensive time in Alaska. His expertise lies in guiding collective efforts to merge young development research with the attitudes, cultures and values found within each local community, for the greatest impact and return on investment.
What people have said about Derek:
"Forget the boring lectures, textbooks, and the PowerPoint projectors, Derek will energize your crowd with basic skills that you can begin using immediately. You will never forget the balloons, the strings, and the message! Helping your community help itself—that is the message that Derek brings — no need to buy expensive 'systems' or 'kits'—Derek will give you the skills and tools needed so that you can develop what you need and what is culturally competent for your community." "Derek Peterson is one of those rare individuals who can bring all of the stakeholders together and help them realize they have the power to make the difference in the lives of their children!" 
 Join us for fun, laughter, refreshments, and more! Keep your evening open on October 5th!