School News
Career Exposure Boot Camps
Posted on

May 7th, 2018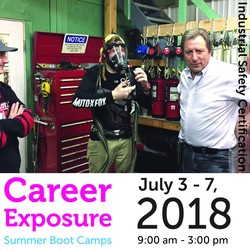 Gateway Academy in conjunction with Onoway Junior Senior High School is very excited to announce Career Exposure Summer Boot Camps at our outreach facility here in Onoway.
Boot Camps will be running July 3rd to 7th. Classes run from 9 am to 3:00 pm each day. There is no charge for students to take the courses and students enrolled in any of the offered programs can receive credits towards their high school diploma. 
Industrial Safety Certification will give 5 credits to students. They will earn industry recognized 3-year certifications in H2S Alive, WHMIS 2015, Flagging, Transportation of Dangerous Goods, Confined Spaces, Detection & Control of Flammables, Ground Disturbance, Fall Protection, Fire Extinguisher, and Ladder Safety.
On July 3rd and 4th, a First Aid/CPR and AED course is being offered for 1 credit. Students will learn how to save lives with first aid, CPR, AED ((Automated External Defibrillator) and resuscitation training resources from the Heart and Stroke Foundation. As with the Industrial Safety Certification, students who successfully pass this course will obtain a 3-year first aid/CPR certification.
Also being offered is X-Treme Robots for 3 credits. Enrolled students will gain a general understanding of robots and robot environment. Students will integrate robot control language to design, develop, implement and debug robotic programs. They will employ standards for structural programming constructs and simple data structures.
Students can register for these exciting programs at ngps.ca or call the school (780-967-2271) or Gateway Academy (780-967-5518)  for more information.